Is your property in dire need of new electrical work? Whether you've just bought a new property, extended your own or simply need some re-wiring and plug sockets for day to day convenience then look no further. Our team of fully qualified electricians at Essex Property Maintenance have years of experience in the field and carry out all electrical work to the safest and highest standard. All of our work is fully insured and guaranteed to give you that much desired peace of mind too! Our friendly electricians can even come to your property at a time convenient for you to give you a free, no obligation estimate, what could be easier?
We often advise our customers to leave any electrical work to us, the professionals, in order to save any unsupervised work being done to those tricky, coloured wires. All of our electricians are NIC and EIC approved meaning you don't have to worry about the job being done to the highest of standards.
With a range of electrical services available at Essex Property Maintenance, at some of the most competitive prices in Essex and London, you really don't need to look anywhere else! We can even come to your property in the event of an emergency to have your electricity up and running and in no time at all.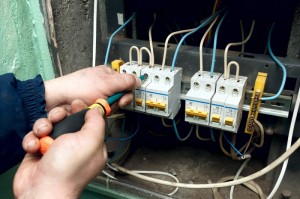 Our services include:
Emergency repairs
Repairing blown fuses
Repairing fused plugs
Repairing lights
Light installation
Plug point installation
Door bell installation
Moving aerial sockets/aerial socket installation
Network cabling
Rewiring
If you would like more information about our electrical services, please don't hesitate to call our friendly team on 07850 432210 as we would be delighted to help.